– BRUXISME –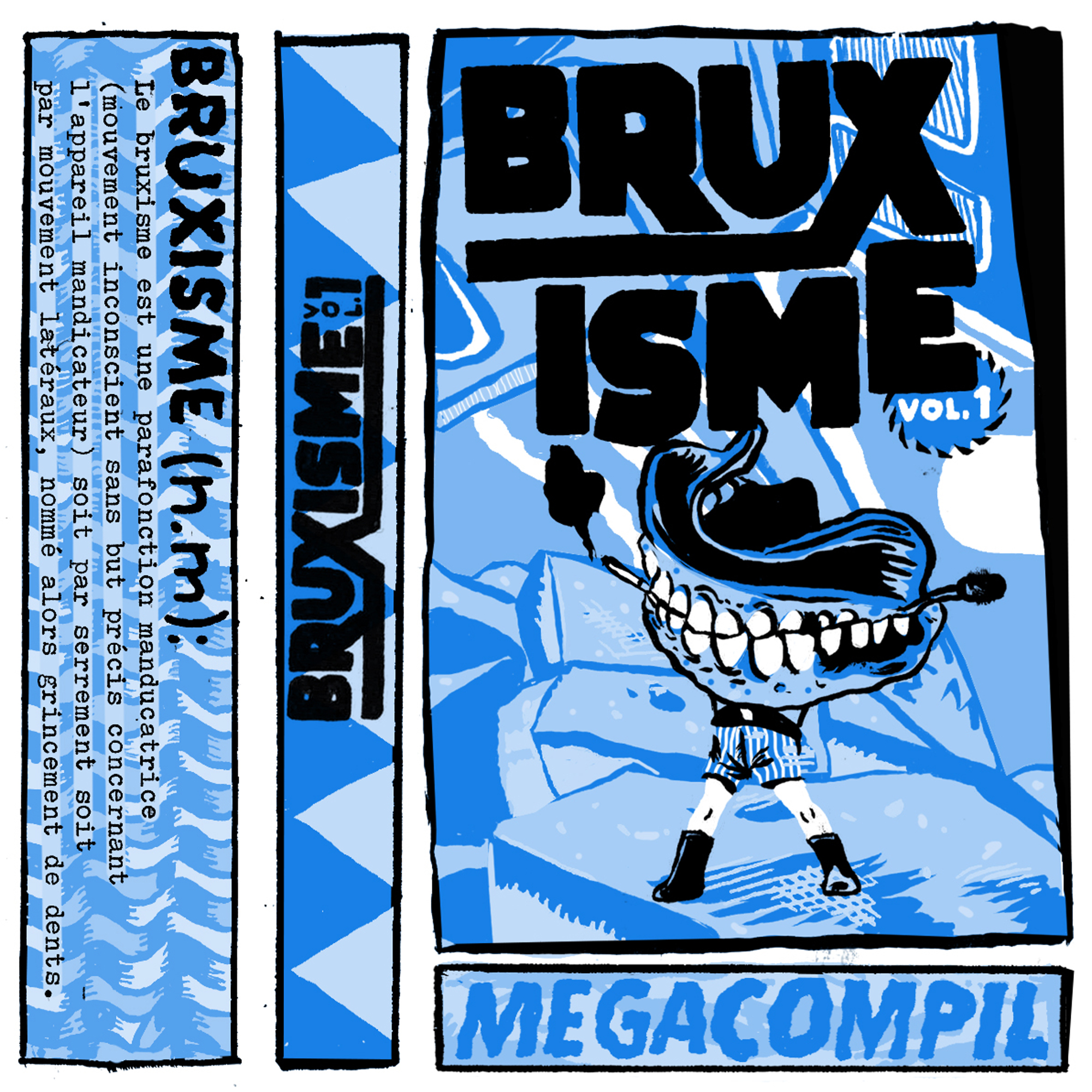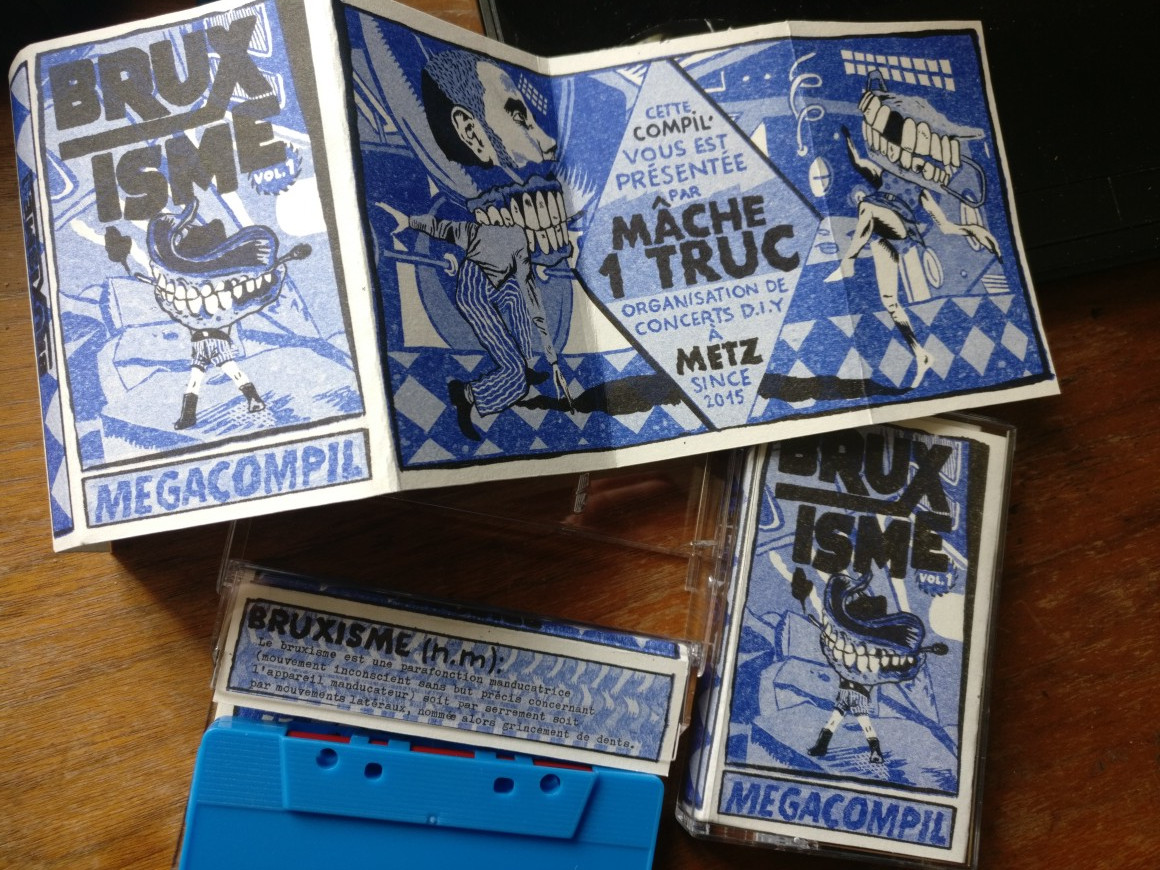 du grec brugmos βρυγμος:
mouvement inconscient sans but précis de l'appareil manducateur, soit par serrement soit par mouvements latéraux,
aussi appelé « grincement de dents ».
###
from Greek brugmos βρυγμος:
unconscious aimless movement of the manducatory apparatus, either by clenching or by lateral movements,
also called « teeth grinding ».
###
Plus de 50 groupes ont répondu présent à notre appel à compilation, nous sommes ravis d'enfin pouvoir partager tout ça avec vous !
Vous trouverez ici les infos qui n'ont pas su trouver leur place sur le support cassette.
###
More than 50 bands responded to our call for compilation, we are delighted to finally be able to share it all with you!
You will find here the info that didn't find its place on the cassette.
###
all tracks mixed by the bands
~
tape mastering by
kevin le quellec & bstn chmps @ cave38 studio
~
tape duplication by
rohs prod @ le long salon
~
artwork by val l'enclume
###
###
1- Les morts vont bien – raidi
From

amiens


Played on 28/02/16 @ La chaouée

2- kls – Missils de corea
From

Benicarlo

(sp)


played on 02/05/16 @ La chaouée
« The square wave, the failed consumer society, single impersonation, new social roles, fear, indifference, nonsense, grotesque, self-isolation, mental block, borders, the brief, the post-industrial era, the good, the evil, self-conviction, complacency, sorrow, self-defense, hysteria, noise. All those things are KLS, brief, fast, noisy, upset, robotic, imperfect.
A big hug. »
3- la pince – Torso
From

Brussel

(be)


played on 06/02/17 & 02/06/17 @ la chaouée
4- OxRxB – Old rotten bastards
From

Nancy


PLAYED on 16/11/17 & 17/06/18 @ la chaouée
« Old Rotten Bastards » : Vieillir dans ce milieu de punk métalleux alterno machin chose … Imaginer des hospices autogérés et des concerts du 3ième age, des circle pit en déambulateurs et des dentiers qui volent dans le pogo… On voulait vivre vite et mourir jeune et arrivé un certain âge, tu te dis que finalement si tu pouvais crever pas trop vite et sans soucis de santé trop crade ce n'est peut-être pas plus mal !

Growing old in this punk metal alterno thingy… Imagining self-managed hospices and 3rd age concerts, circle pits with walkers and teeth flying in the pogo… We wanted to live fast and die young and when you reach a certain age, you think that if you could die not too fast and without too horrible health problems it might not be too bad !

OxRxB sur cet enregistrement = Alex, Pablo, Tiairy, Julien
et maintenant OxRxB = Alex, Pablo, Tiairy, Mignon
5 -dead neanderthals – slug fetus
from

nijmegen (nl)


Played on 13/10/16 @ la chaouée

Written and recorded by Dead Neanderthals


Mixed Marlon Wolterink at White Noise Studio



6- Mor(t)sure – bile noire
FROM

METZ


PLAYED on 29/09/18 @ la chaouée &
08/02/19 @ fait vriller fest – poncillon
7- convulsif – why hide ?
FROM

switzerland


played on 06/11/18 @ la jehanne
Engineered by Raphaël Bovey




Recorded live at Blend Studio, Lutry




Mixed and mastered at MyRoom Studio, Lausanne 2016

Line up :




Jamasp Jhabvala – violin & electronics




Christian Müller – Bass clarinet & electronics




Loïc Grobéty – bass




Maxime Hänsenberger – drum
8- tonto – yeah
from

italy


played on 07/05/17 @ & la chaouée 07/10/17 @ l'aérogare & 16/11/18 @ la chaouée
9- récidive – the rest
from

metz


played on 13/01/16 @ la chaouée
Morceau extrait du split « EvilTape »


Recorded and mixed by Loick LG, La Main Noire Studio in September 2017


https://recidive.bandcamp.com
10- freda – endless
from

metz


played on 03/02/16

@

la chaouée & 24/03/16 @ Poncillon & 30/03/19 @ la chaouée & 27/04/19 @ c404

11- DudS – different stage part ii
from

manchester (uk)


played on 13/10/17 @ la chaouée
12- tachycardie – sur et sous le coteau
from

Tours


played on 10/11/19 @ la belle étoile
13- doc flippers – everything is terrible ii
from

leipzig (de)


played on 30/03/19 @ la chaouée
14- pain blanc – going down south
from

metz


played on 06/04/18 @ le baratin & 08/06/18 @ c404
15- le crabe – dans le vortex
from

somewhere


played on 15/06/19 @ c404
16- Mesa of the lost women – fireworks massacre
from

metz


played on 25/06/18 @ la chaouée
17- przepych – final warning (live in cave 12)
from

wroclaw (pl)


played on 02/05/19 @ la chaouée
Recorded live by Emma Souharce in Cave 12 on 24.04.2019.
Mixed by Szymon Szwarc.
Produced by Przepych and Szymon Szwarc.

Przepych is:

Ewa Głowacka – vocals, delay knobs
Jakub Majchrzak – vocals, bass, sampler
Łukasz Plata – vocals, drums, drum pad

« The understandable reaction to redundancy is asceticism. While the tyranny of minimalism is resisted by liberating forces of excess (splendor; lavishness; germ. der Pracht; rus. pоскошь; fr. sumptuosite; pol. przepych). »
18- octopoulpe – digou planet
from

everywhere


played on 01/12/17 @ poncillon
« Digou planet » from the album « Kichompré » (2020)




Drums recorded at Union Studio (SK) by Brad Wheeler in February 2019




Vocals recorded at GBN (SK) in February 2019




Guitars recorded in Limoges (FR) in April and Mexico city (MX) in October 2019




Extra vocals by Billy le Millionaire




Mixed and mastered by Ricardo Gamondi in Italy in 2020

Bio : 




Born in a fish tank in Seoul in 2014, Octopoulpe is a half-naked creature playing tentacular music, from




Math-rock to hardcore-punk.




Thanks to his many tentacles, he can play drums and control other instruments, lights and video-projections




at the same time, allowing him to play with his digital self, as well as with many other guests.
19- don vito – non electric mayhem
from

leipzig (de)


played on 04/07/15 & 06/11/16 @ la chaouée
20- strong as ten – death on the way
from

metz


played on 01/12/17 @ poncillon & 17/06/18 @ la chaouée
21- gros oiseau – carton
from

geneve (ch)


played on 30/06/17 @ la chaouée & 07/12/17 @ c404
22- igloo – jacqueline (m1t version)
from

la fermatozoïde


played on 23/10/15 @ la chaouée
Enregistré en 2015
batterie: Anso Apyr
voix: Lütr
guitare XII: Horst Du Noch
basse: Mich Mich
23- hank! – the weather
from

marseille


played on 10/03/19 @ la chaouée
24- ultra zook – la plasticité mentale du monsieur
from

toulouse


played on 28/11/15 & 28/05/16 @ la chaouée & 13/05/19 @ les trinitaires
25- silence – tomorrow
from

nancy


played on 04/07/15 & 18/04/16 & 18/10/18 @ la chaouée
Enregistré et mixé fin octobre 2018 à l'Usine par Julien Rosenberger et Fabien Pilard.
Outtake de l'album Mirror City (2020). Bazar n'était pas content de son jeu de batterie…
Le morceau n'a pas été masterisé [avant le master réalisé pour la sortie k7 de la présente compil', ndlr]. C'est le dernier morceau enregistré avec Sophie au synthé/voix. 

« On a du le jouer en live 1 ou 2 fois… Je ne sais pas trop pourquoi d'ailleurs car en réécoutant le morceau là, je me dis qu'il n'est pas si mal que ça… »

He got no sense, no sense at all.
No satisfaction in his mouth.
No sense at all
I'm not gonna wait till tomorrow
Well, I ain't gonna waste my nonsensical life
I've always thought that she was present
I've always thought that she was pleasant
But I couldn't see if those eyes were hazel or green
Don't remember!
I remember
Leave no regrets
Go away (2x)
Waiting, ready to fall
26- klaus legal – thibault
from

les vosges


played on 13/01/16 @ la chaouée
27- seb & the rhaaadicks – you're my granny
from

lyon


played on 17/01/16 @ tedesco bar & 21/11/19 @ café du lancieu
Paroles & musique: Sébastien Radix
Tous instruments par Seb Radix sauf solo de saxophone par Joe Mc Phee (chut, c'est un sample…)
Enregistré & mixé vite fait par Lui-même (pas Joe Mc Phee hein..) à Henon Dungeon en mai 2020 ou 2021.
28- dirty dentist – 5 dents
from

belgium (be)


played on 03/05/18 @ c404
Enregistré en 2018 à l'Het Gotten à Herzele (B), par Mehdi et Mr Marcaille, mixé par Mehdi.

https://soundcloud.com/dirtydentist
fin du volume 1
à suivre…